ARAvatarTrigger
From Blue Mars Developer Guidebook
Overview
The ARAvatarTrigger responds when an avatar enters or leaves the bounding box of the trigger, or a Shape area linked to the trigger. Example usage is shown here.
In the CityEditor, drag the ARAvatarTrigger entity into the level. Use the FlowGraph setup to trigger events like Enter and Leave.
Properties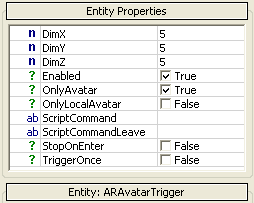 DimX,Y,Z

X, Y, Z dimensions
OnlyLocalAvatar

flag determines whether the trigger responds only to the local avatar (a user's avatar)
TriggerOnce

flag determines if the trigger should be limited to one enter event (requires OnlyLocalAvatar to be set to true).
StopOnEnter

flag determines whether the avatar should stop walking and start an idle animation upon entering the trigger
ScriptCommand

executed upon entering the trigger
ScriptCommandLeave

executed upon leaving the trigger
FlowGraph setup in CityEditor
FlowGraph Input
Disable

sends to Inactive state, where Enter event will have no effect
Enable

sends to Empty (enabled) state
Enter

triggers Enter event
Leave

triggers Leave event
FlowGraph Output
Enter

triggered when avatar enters bounding box area (or by Enter input)
Leave

triggered when avatar leaves bounding box area (or by Leave input)
InactiveUponEnter

triggered when avatar enters bounding box area (or by Enter input), and the entity state is Inactive
Disable, Enable

not used
Script

ARAvatarTrigger = {
  type = "Trigger",

  Properties = {
    DimX = 5,
    DimY = 5,
    DimZ = 5,
    bEnabled=1,
    bOnlyLocalAvatar = 1,
    bOnlyAvatar = 1,
    bStopOnEnter=0,
    bTriggerOnce = 0,
    ScriptCommand = "",
    ScriptCommandLeave = "",
  },
  States = {"Empty", "Inactive"},

  Editor={
    Model="Editor/Objects/T.cgf",
    Icon="Trigger.bmp",
    ShowBounds = 1,
  },
  
  trigger = true,
  bTriggered = false,
}

function ARAvatarTrigger:OnPropertyChange()
  self:OnReset();
end

function ARAvatarTrigger:OnInit()
  self:SetUpdatePolicy( ENTITY_UPDATE_PHYSICS );
  self:OnReset();
end

function ARAvatarTrigger:OnReset()
  self:KillTimer(0);
  self.Who = nil;
  self.Entered = 0;
  self.bLocked = 0;
  self.bTriggered = 0;
  self.EnterCount =0;
  self.UpdateCounter = 0;
  self.bUseOrderEnabled = true;
  
  local Min = { x=-self.Properties.DimX/2, y=-self.Properties.DimY/2, z=-self.Properties.DimZ/2 };
  local Max = { x=self.Properties.DimX/2, y=self.Properties.DimY/2, z=self.Properties.DimZ/2 };
  self:SetTriggerBBox( Min, Max );
  
  if (self.Properties.bEnabled==1) then
    self:GotoState( "Empty" );
  else
    self:GotoState( "Inactive" );
  end

  System.LogAlways ("ARAvatarTrigger:OnReset")
end

function ARAvatarTrigger:IsValidInput (sender)
  local prop = self.Properties
  if sender == nil then
    return false
  elseif prop.bOnlyLocalAvatar and prop.bOnlyLocalAvatar ~= 0 then
    return ARVirtualWorld.IsLocalAvatar (sender)
  elseif prop.bOnlyAvatar and prop.bOnlyAvatar ~= 0 then
    return sender.class == "Avatar"
  else
    return true
  end
end

function ARAvatarTrigger:Event_Enter( sender )
  if (self:GetState( ) == "Inactive") then
    self:ActivateOutput("InactiveUponEnter", true);
    return 
  end 
  
  if self:IsValidInput (sender) then
    if (self.Properties.bTriggerOnce == 1 and self.bTriggered == 1 and self.Properties.bOnlyLocalAvatar == 1) then
      return
    end
    self.bTriggered = 1;
    if (self.Properties.bStopOnEnter==1) then
      sender.ARAvatarAction:StartIdle();
    end
    
    if (self.Properties.ScriptCommand and self.Properties.ScriptCommand~="") then
      local f = loadstring(self.Properties.ScriptCommand);
      if (f~=nil) then
        f();
      end
    end
    self:ActivateOutput("Enter", sender.id);
  end
end

function ARAvatarTrigger:Event_Leave( sender )
  if self:IsValidInput (sender) then
    System.LogAlways ("ARAvatarTrigger:Event_Leave: sender = " .. tostring(sender.id))
    if (self.Properties.ScriptCommandLeave and self.Properties.ScriptCommandLeave~="") then
      local f = loadstring(self.Properties.ScriptCommandLeave);
      if (f~=nil) then
        f();
      end
    end
    self:ActivateOutput("Leave", sender.id);
    if (self.Properties.bTriggerOnce == 1 and self.Properties.bOnlyLocalAvatar == 1) then
      self:GotoState("Inactive");
    end
  end
end

function ARAvatarTrigger:Event_Enable( sender )
   bEnabled = true;   
   self:GotoState("Empty");
end

function ARAvatarTrigger:Event_Disable( sender )
   bEnabled = false;
   
   self:GotoState( "Inactive" );
end

function ARAvatarTrigger:Log( msg )
  System.Log( msg );
end

-- Check if source entity is valid for triggering.
function ARAvatarTrigger:IsValidSource( entity )
  return true;
end



-------------------------------------------------------------------------------
-- Inactive State -------------------------------------------------------------
-------------------------------------------------------------------------------
ARAvatarTrigger.Inactive =
{
  OnBeginState = function( self )
    System.Log("ARAvatarTrigger.Inactive");
  end,
}

-------------------------------------------------------------------------------
-- Empty State ----------------------------------------------------------------
-------------------------------------------------------------------------------
ARAvatarTrigger.Empty =
{
  -------------------------------------------------------------------------------
  OnBeginState = function( self )
    System.LogAlways ("Empty!")
    self.Who = nil;
    self.UpdateCounter = 0;
    self.Entered = 0;
    if (self.Properties.aianchorAIAction~="") then
    end
  end,

  -------------------------------------------------------------------------------
  OnEnterArea = function( self,entity,areaId )
    self:Event_Enter(entity);
  end,

  ---------------------------------------------
  OnLeaveArea = function( self,entity,areaId )
    self:Event_Leave( entity );
  end,
}

ARAvatarTrigger.FlowEvents =
{
  Inputs =
  {
    Disable = { ARAvatarTrigger.Event_Disable, "bool" },
    Enable = { ARAvatarTrigger.Event_Enable, "bool" },
    Enter = { ARAvatarTrigger.Event_Enter, "entity" },
    Leave = { ARAvatarTrigger.Event_Leave, "entity" },
  },
  Outputs =
  {
    Disable = "bool",
    Enable = "bool",
    Enter = "entity",
    InactiveUponEnter = "bool",
    Leave = "entity",
  },
}