ARWatchTogether
From Blue Mars Developer Guidebook
Overview
The ARWatchTogether broadcasts specified URLs via network by using the Dynamic Object mechanism.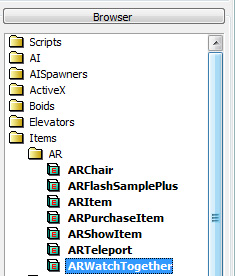 In the City Editor, drag the ARWatchTotether entity into the level. Use the FlowGraph setup to activate the URL input user interface.
Properties
Please do not change these properties until further announcement.
Map

File path to the Flash file(swf/gfx) which will be used to input URL from YouTube.
Please do not change this value.
syncPeriod

Controls timing of broadcasting in milliseconds.
Please do not change this value. Decreasing this value will cause major network issues!
Setup ARWatchTogether in CityEditor
FlowGraph Input
Activate

Invoke Flash UI which is specified at Model property, then waits until a proper URL is entered.
FlowGraph Output
Play

Triggered when a proper URL is entered from the Flash UI and sends that URL string.

Stop

Triggered when a URL is received from another player.
FailedToGetOwner

Owned
Please note that the Dynamic Object mechanism gives control to only one player per scene. Therefore, sometimes "Activate" will fail due to the fact that control had been taken over by another player. When "Activate" is triggered in the FlowGraph input, the output will indicate whether you have successfully taken control of the Dynamic Object.
Script

coming soon.