Animation
From Blue Mars Developer Guidebook


Return to User Interface


Overview
The Animation window allows you to select which animations you would like to be performed whenever you type in the corresponding animation name following a forward slash "/" for example /dance or /jump.
This window also allows you to assign purchased animations to be used in place of the default ones.


In this tutorial we will be briefly reviewing the functions of the Animation window and how it is used.


Animation
1. On the left side of this window, you will see the name of the animation, this corresponds to what you would type to activate the animation.
2. On the right side, this is the name of the default/purchased animations. Click any of the drop boxes to select which animation type you would like to use. If there is more than one option available selecting a different option will cause your avatar to perform the selected animation, allowing you to preview which you would like to choose.
3. Clicking Done will save all choices you have made and return you to the game.
4. Clicking Cancel will null any changes you have made and return you to the game.

Assigning Animations
You may notice that when you type a command to perform an animation, such as "/dance" that it is not always consistent and sometimes may be completely different than what you wanted!
The reason for this is that some animations have multiple slots in which you can assign an animation to.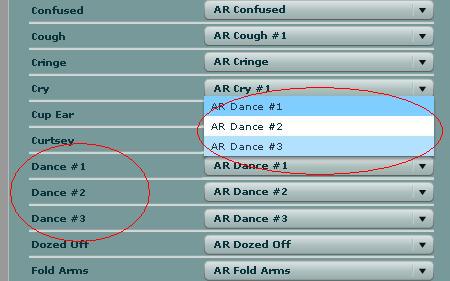 In this example, notice on the left how there are three separate instances of "dance". What this means is that when you perform the "/dance" animation the game will choose randomly from one of these three slots and perform that animation!
If for whatever reason you would like the animation to be consistent, all you have to do is set all instances of that animation to the same type.
For example setting Dance #1 Dance #2 and Dance #3 all to AR Dance #1 will ensure that whenever you use "/dance" it will always be AR Dance #1 that is performed.
Now on the right, you'll notice the drop-down menu that appears when a animation type is selected. If there are more than one type of animation that you can select, pick one and you will see a preview of that animation being performed by your Avatar. Once you have found an animation that you would like to be used, simply select it and the next time you perform that animation, the selection you made will be used.


Return to User Interface