Blue Mars User Client Release Notes December 17 2010
From Blue Mars Developer Guidebook
Back to Release Notes

Version 0.80.120780.0 (December 17, 2010)
Download links
User Client full installer (354MB)
Patch from version 0.71.11487.0 to 0.80.12078.0 (15.5MB)

Patches for older versions
Patch from version 0.70.11409.0 to 0.71.11487.0 (1.81MB)
Patch from version 0.0.11173.0 to 0.70.11402.0 (20.7MB)

Patch from version 0.0.11022.0 to 0.0.11173.0 (1.8MB)

Patch from version 0.0.10601.0 to 0.0.11022.0 (5.92MB)

Patch from version 0.0.10521.0 to 0.0.10601.0 (2MB)


Changes/Fixes since 0.71.11487.0 (November 4, 2010) release
New Features
Auto-patch feature
Future updates to the User client will be automatically downloaded and installed when you launch the client.

Apartments
In addition to Residences (single family homes), you can now lease and decorate Apartments.
Please read these document on how to lease Apartments.
Please read this document on how to decorate and manage your Apartments.
Enhanced Places Browser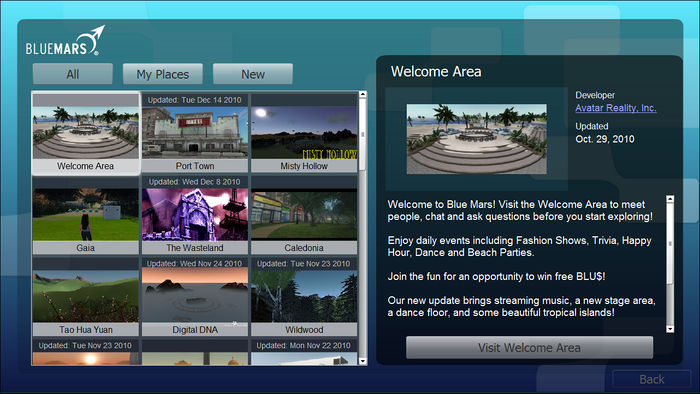 The Places Browser now has three tabs.

"All" tab lists all Cities.
"My Places" tab lists Cities that you have previously downloaded.
"New" works like the "All" tab, except that Cities are listed in the order of their release/update date, with newest Cities on top.

Developer name and contact URL/email can now be displayed in the Places Browser.

City Developers: Please contact AR at the usual email address if you would like your name and contact link to be displayed with your City.

"Refresh" button has been removed. The Places Browser will now automatically refresh as needed.
Client-wide announcement window
To notify users of upcoming and/or emergency server shutdowns, or to make worldwide announcements, we have implemented an announcement dialog window that will open up regardless of where you are in Blue Mars (including game levels and Places Browser).
Email notification for expired lease
When a City/Block/Shop/Residence lease terminates due to non-payment, an email notification will be sent to the tenant and the owner.
Back to Release Notes