C&UCity
From Blue Mars Developer Guidebook

Creating and uploading a City to Blue Mars
With the City Editor fired up, lets begin creating your first city in Blue Mars.
1. To start, click File / New , The resulting pop-up box will give you several options to choose from in creating your city. The first thing you will want to do is decide upon a name in which to give your city, the name you choose will be very important later in uploading your city / blocks to the server because Blue mars uses a specific naming convention.
Screenshot Example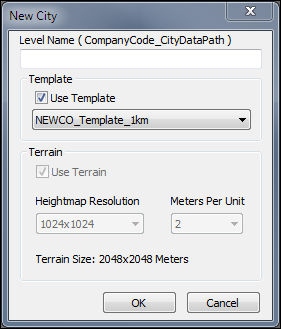 2. Under Level Name, you will first input your company name followed by the name of your city, your company name can either be abbreviated or spelled out but keep in mind the max amount of alphanumeric characters you can use is 6 and they must all be upper case. The company name is followed by an underscore (_) and then you input what you would like to name your city. As you can tell, within this example folder, the city we have used is named TESTER_TestCity05 where TESTER is the name of the company, and TestCity05 is the name of our city.
3. After you decide on that, you can now choose to either use our template level (which has pre-made roads, a block and some vegetation made for you) or to create your own level. If you decide to make your own level from scratch, you will have to decide upon just how big your heightmap is and how many meters per unit this level is (Please note that the 8192x8192 resolution has been removed from creating a new city to avoid terrain-size related problems.) Whichever size you decide to go with, once in game if you are unhappy with how the size of your level came out you can always change it by going to Terrain / Resize Terrain (And for advanced creators the 8192x8192 resolution option is available here.)
4. So once you've decided on the name of the city and just how big you'd like it to be, click ok and Blue Mars will create a folder under your Levels directory (C:\Program Files (x86)\Blue Mars City Developer Tools\Game\Levels) and you will be greeted with this screen:
Screenshot Example
5. Your location right now is under water, and you are looking at the edge of your city, the two entities you see are the SpawnPoint and ARDefaultCamera. The spawn point is where anyone who first enters your level will spawn, and the ARDefaultCamera is the camera used to ensure you are at a third person view during the game (Removing it will place you in a first person view for your level.) The only thing that you will want to keep in mind is that you will need to move your SpawnPoint to where you want players to spawn in your level once you have created some terrain.
6. In this tutorial I will not cover how to build / modify/ edit your terrain as there are already a lot of tutorials out there and on our forums.
7. Now once your level has been created and you are satisfied with the way things look it is time to prepare your city for upload to our server. As a City Developer you will want to create some blocks that are able to be rented out to other users or for your own personal use, These blocks can be used for creating shops or for creating a residence. To do this head on over to the RollupBar and under the objects tab, click Area and for Object Type, Shape
Screenshot Example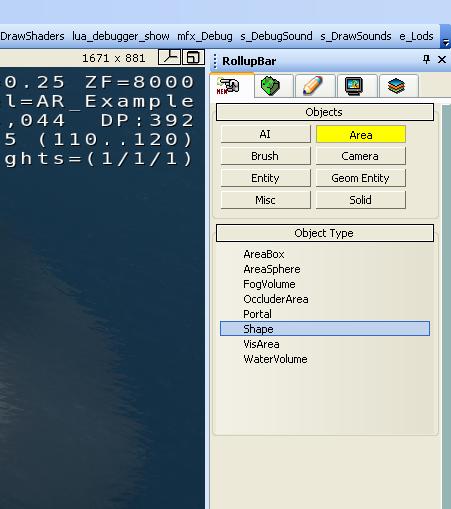 8. With Shape selected, move on over to your city and left click to place the beginning of your block, move the mouse over to the next edge of your shape and left click again, continue this untill you have defined the area you would like to make as your Block (In general creating a square box is ideal, however the choice is up to you.) Once you reach the last border of your block double click to end the process of creating an area shape.
Screenshot Example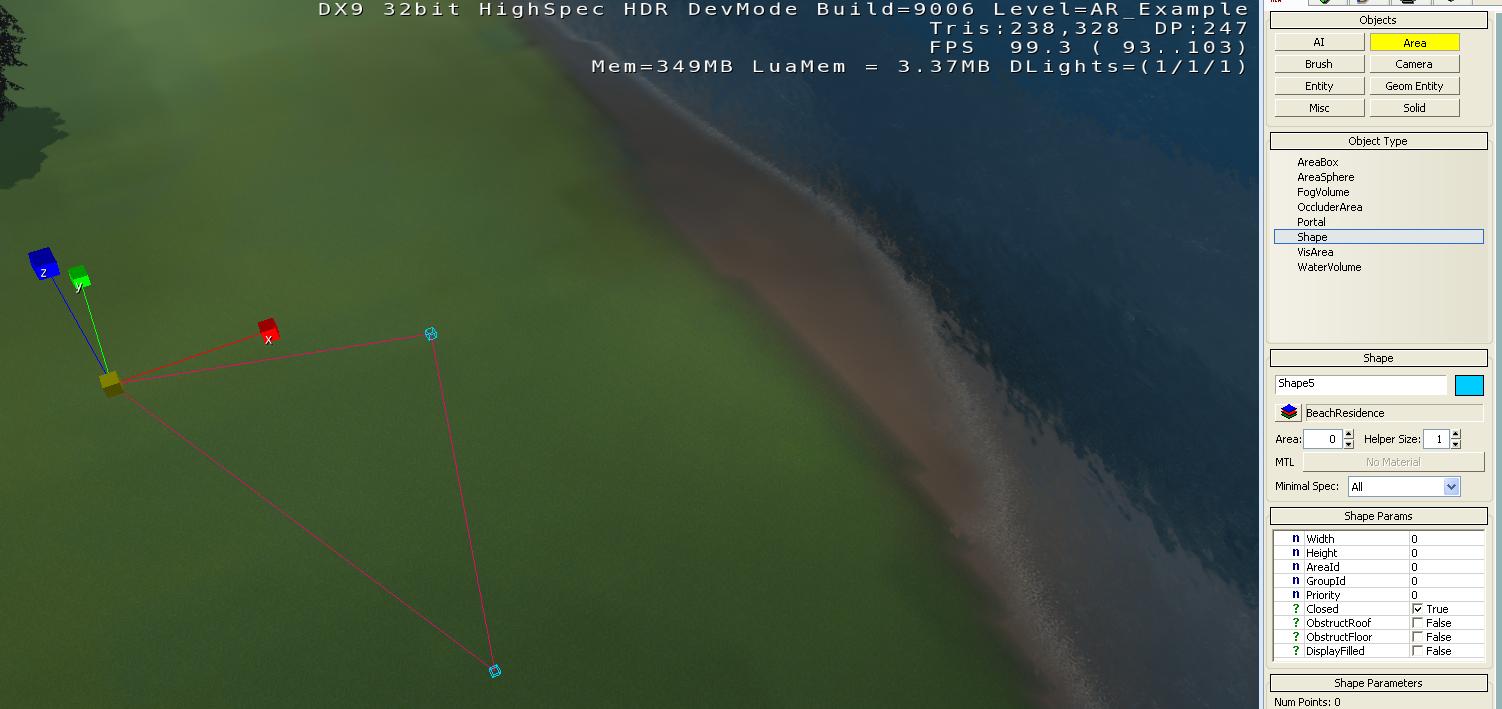 9. Over on the RollupBar set the height of your AreaShape to around 30 and click the checkbox to enable DisplayFilled, this will highlight your AreaShape, and give you a better visual aid to how big you would like your block to be
Screenshot Example
10. With the shape still selected, go to the BlueMars tab / Make / Make new block from selection, Give your block a name and check the box to either allow/disable the ability for whoever rents the land to edit the terrain.
Screenshot Example
11. Continue this process untill you have created the maximum number of blocks allowed by the type of city you have purchased (http://bluemarsonline.com/hosting/service.html)
12. Now with all your blocks created, you are ready to export the city.
Bluemars / Export / Export CTY.. and save the cty in the default location (within your Company_City folder you created earlier) and click Save.
Screenshot Example
13. So, now you've got your City, defined the area in which your blocks will be and are ready to upload your city to the Blue Mars Server! Once you have purchased a city from BlueMars you should recieve an E-mail with instructions on how to upload your .cty files through ftp to our server. Once that is complete, you will recieve another e-mail informing you when your city is successfully added into our server database and ready for you to upload blocks to!
Files used for reference: File:TESTER TestCity05.zip