How to Manage Residences and Apartments
From Blue Mars Developer Guidebook
Back to Tutorials


Managing Residences
This tutorial will show you the basic functions that become available to you once you own a Residence.
Placing Furniture
Depending on the Block Owner / City Owner and whether or not they have assigned default furniture for you to use within your residence you may or may not start off with furniture in your Residence. If this is the case you'll want to purchase some furniture from a developer who is currently selling some.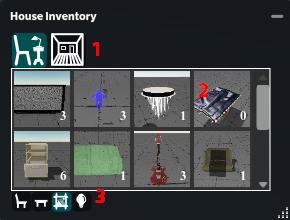 With furniture purchased, when you enter your residence you'll notice the little box on the bottom right corner of your screen.
This is your Furniture inventory, the area up top (1) is a tab for choosing between different interiors (which are used only for apartments) or placing furniture.The area down below (3) allows you to tab through the different "types" of furniture, those types being "Chair" "Table" "Ornament" and "Light". The area in the middle (2) is your furniture type items. Click an image of the furniture you would like to place and you will notice a blue silhouette of the item displayed.


Depending what it attaches to (Ceiling fan > Ceiling, Television > Wall, etc..) click once more and it will place your item within your Residence.
Once an item has been placed there are a couple of things you can do to modify it, start by right clicking the furniture item you would like to modify.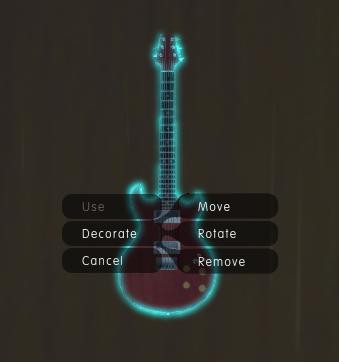 Use : If the Furniture Item has a function such as ARLight or ARChair assigned to it, clicking the use button will either turn on/off a light, or allow you to take a seat.

Decorate : Clicking Decorate will bring up the menu on the right, from here you are able to "Move" the item to a different location, "Rotate" The item left or right or "Remove" the item, returning it to your inventory.

Cancel : Cancel will allow you to back out of the Modify Furniture UI.

Move: This will allow you to move your Furniture to another location.

Rotate: Rotates your furniture item left and right.

Remove: Remove takes the item out of your Residence and places it back within your inventory for re-use.
Modifying Guests

To Modify what users you will and wont allow within your Residence there are two ways to reach the "Modify Residence" Screen. You can either Right Click the door of your residence once inside, or right click your avatar and select the "Residence" tab.

1: The little lock icon determines whether your residence is open to anyone (Opened Lock), or whether only select people you choose are allowed within your Residence (Closed Lock). If your Residence is "locked" the little friends icon right next to the lock is just that, "Friends List". Bring up the "Friends" list and simply drag and drop the names of any friends you would like to have access to your Residence into the "Access List".

2: This section is your "Access List" Here is where you add people from your friends list to allow them access to your Residence, should you choose to have it locked.

3: This section shows you the details of all Residences you own. The name of the Residence, the City in which it belongs to and the maximum of roommates allowed is all displayed here. From this window you can also see when your Rent is next due and how much it will be, and also you have the two options of paying your rent and terminating your lease.

4: If you own more than one Residence, this section here will be used to tab through which residences you own, allowing you individual management of each residence and the guests that are allowed.
The Pay Rent button can be used in one of two ways. If you did not have enough BLU balance in your account when the rent was due, you still have a 30 day grace period (Remember when you first leased out the Residence, you paid for first and last months rent, this is where that comes into effect) in which to pay for your rent. If your rent is up to date, but you would like to pay a month in advance, this feature is also available to you. Please note that you can only pay up to a maximum of two months in advance.
The Terminate Lease command is pretty straight forward, if for whatever reason you would like to stop using a residence and Terminate your lease with the Block/City Owner this is the button used to do so. Please note that when terminating lease, your Residence will still be available to you for the remainder of your "Paid Through" date. Once that date has passed your Residence will no longer be available to you.
Back to Tutorials