Support FAQ
From Blue Mars Developer Guidebook
This is a collection of answers to questions frequently sent to our support.
General
I made a mistake and chose a wrong username. Can I change it?
Username cannot be changed once the account has been created.
I made a mistake and chose a wrong gender for my avatar. How can I change it?
Currently there is no way to change avatar gender in-app. You can, however, change the avatar's gender at the member MyPage (requires a Flash-capable browser).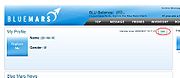 Once logged in, press the "Edit" button (you will be prompted for username/password again).
In the "Edit Avatar" tab, press the "Reset Avatar" button.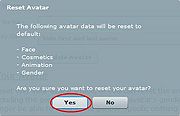 Press "Yes" in the confirmation dialog.
Choose new avatar gender.
How do I cancel my account?
To deactivate your account, please contact us at support@bluemarsonline.com (or appsupport@bluemarsonline.com for Blue Mars Mobile) from the email address associated with your account, and let us know which account you would like to cancel. In order to verify the cancellation request, the email address must be the one associated with your Blue Mars account.
Blue Mars (PC)
Is Blue Mars on the PC still in service?
Yes.
When I click on the "Login" button, it just stays stuck on the "Loading" animation
Please look for the local storage settings in your Flash Player control panel, and make sure the settings are set as highlighted in the screenshot above.
When contacting support for help with crashes, what files do I need to send?
Please look for a folder called BlueMars under your "My Documents"(or "Documents"), "My Games" folder, and send that folder to us as a zip file.
Please also check to see if there is a file called Game.log or Game in your C:\Program Files (x86)\Blue Mars (or C:\Program Files\Blue Mars) folder and send it to us if there is one.
I cannot launch the game on Windows 8. Something about being unable to initialize the Flash Player.
We have seen this error occur for some of our users on Windows 8. Unfortunately we do not know the cause nor have a fix, but please contact support so that we can collect your PC's configuration information and narrow down the cause of the issue.
Blue Mars Mobile
How do I get BLU?
You can buy BLU via in-app purchase.

You can also buy BLU through our web site (requires a Flash-capable browser) using Google Checkout. Note that you get a slightly better exchange rate through our web site compared to the in-app purchase.
Can I get rid of ads?
Ads are removed from Blue Mars Mobile as long as you maintain a certain balance of BLU (currently 101 or more).
How do I get BLU for free?
When you associate an email address with your account for the first time, you will receive some BLU as a reward.
What happened to the referral program?
Due to abuse, we no longer offer BLU for referring new members.
Why won't you make an Android version?
Limited staffing at Avatar Reality is the main reason. Android is a much more diverse platform than the iOS, and we are concerned that we won't be able to sufficiently test and support the wide range of devices available. We care about providing a good user experience to our users, and that is not something we can do on the Android at our current scale.
Why was my account canceled?
Most likely you were banned for violation of our Terms of Service. If you feel you were banned in error, please contact us at appsupport@bluemarsonline.com. Please do not continue making new accounts. We will just ban you again.
Why can we no longer post profile pictures without a registered email address?
Unfortunately, too many people used it as an invitation to copy & paste pornography they found on the internet.
This is a 17+ app. I should be able to post mature content.
Posting pornography in public areas is not what we consider "mature" activity. It is also against our Terms of Service.
Blue Mars Lite
When I enter a room, I can see my avatar but the background looks black or gray.
Your video card may be unsupported at this time, or your video card drivers are out of date. Updating your video card drivers may help with the issue.